Yao Zhipeng: A dragon made of dough allowed my Olympic dream to soar


My name is Yao Zhipeng. I am twenty-four years old and I graduated from the Central Institute of Fine Arts this year. From the time Beijing won its bid to host the Olympic Games seven years ago, when China fulfilled its "hundred years of dreaming," I had a dream: I wanted to contribute to the Games. I want the Olympics to show China's ability to host a grand event.

With the Beijing 2008 Olympic Games approaching, my wish was fulfilled this year during the Spring Festival: I designed a 5.6 meter long model dragon by myself and then created it with the efforts of my entire family. Making the dragon has allowed me to profoundly connect with my Olympic destiny. I plan to continue using this craft of traditional Chinese model making to spread Olympic spirit and Chinese culture.

Creative inspiration originated from a dream

In my hometown, Yuncheng, Shanxi, it's a tradition in the family to steam buns during Chinese New Year or other festivals. When I was home for Spring Festival this year, I saw my mother preparing the buns and, in a dream, I saw an image of a great dragon dancing in the sky. It inspired me with the idea that my whole family could construct a model dragon out of dough to celebrate the Games. My family immediately supported the idea and we used the holiday to gather materials of all colors, using the very best flour we had to make the dough.




The whole family constructs the dragon

Because of my major in advertising and design, I was of course given the responsibility of designing the dragon; my very practical mother, Li Yindi, was in charge of construction; my very skilled father, Ya Zengqing, came up with methods of construction; my sister, Yao Zhiri, was responsible for logistics. My mother had never made a Fuwa before, so I showed her its color, shape and size. As soon as my mother can see something, she can make it and soon after she saw the design, a Fuwa was born. My father made the "Bird's Nest" out of cut up cigarette cases and tinfoil – his elaborate construction process made the final product seem like it was made of metal.

Overcoming difficulties to make the model dragon

Creating the dragon was difficult. A few days after steaming the body of the dragon, it began to fall apart and get moldy. And the Fuwa, Bird's Nest, flowers and grass would break as soon as they were touched. My father did some research online and finally discovered that adding glutinous rice flour, salt, glycerin and other ingredients to the dough would solve our problems. After many trials, we had product that would last for a long time.

How do you steam a 5.6 meter long dragon? This was a difficult question to answer. After a few trials, we decided to steam the dragon in segments. By joining the segments together according to our design, the body of the dragon was just the way we wanted it.

We carefully inserted flowers and grasses into the dragon's body, as well as stickers, fishes and insects. Then we inserted the Fuwa, the Bird's Nest and models of athletes. And finally we added the words "Welcome Olympics!" and "Beijing Welcomes You" to the dragon's bottom and sides. We put 29 clouds around the finished creation so that the dragon could soar through the sky!

On February 2, the dragon raised its head and was born. In total we spent one month making it and used 50 kilograms of flour, five kilograms of glutinous rice flour, 350 bamboo stickers and a lot of salt and food coloring, among other materials.

I will make many more of these Olympic models

It wasn't convenient for us to bring the dragon from our hometown, so several days ago, our family made the same dragon again in Beijing. I hope that the dragon, which is meant to welcome the Olympic Games, will be seen in high schools and other locations and represent people's eagerness to welcome the Games. I already have designs for many more models, such as one for the Olympic Torch Relay, one depicting a dove holding an olive branch in its mouth, one showing a basketball player making a shot and another of a table tennis match.

My inspiration is to bring the Olympic Games and this traditional Chinese craft together.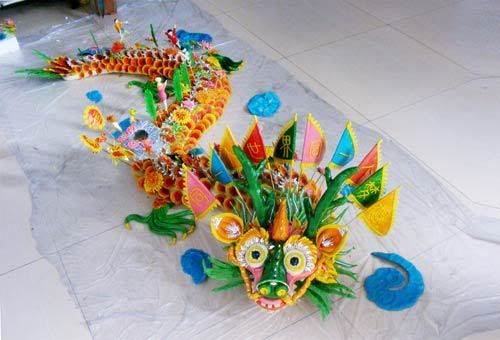 From: Olympic Story (May 1)

~~~
I think it looks amazing, and so colourful too. With all the news about riots and protests its nice to see a more positive Olympics story show up.